Howdy Pardners!
Gh-gh-gh-ghost! Have appeared on your Homestead and they need your help with some unfinished business. Be sure to help all the ghosts and they'll be sure to reward you with tricks or treats for helping them move on in peace. Are you ready for a spook?
HELPFUL TIPS
Gated at Level 15
12 repeatable missions
3 cats that follow you
1 new rideable horse
__________________________
To start out, click OK when you receive the popup below.
The right side will show the ghost icon to bring up the mission mgr for the 12 missions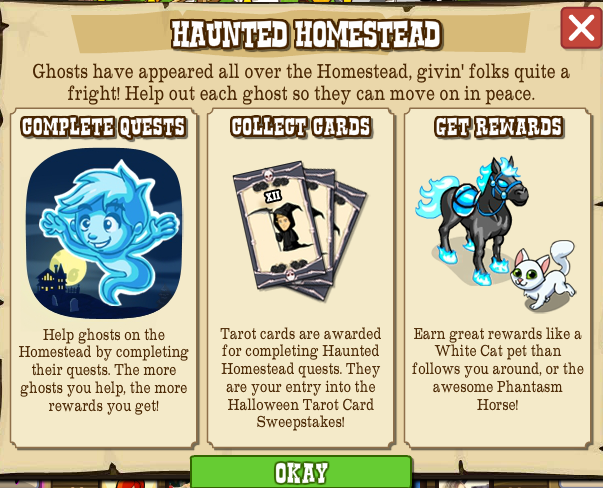 Quote:
Good Eats
Harvest 25 Garlic
Tend 25 Adult Cows
Craft or Have 15 Batter
Reward: 250XP, Spirit Essence, 1 Tarot Card

'Til Death Do Us Part
Harvest 25 Red Roses
Collect the Cabin Daily Bonus
Collect 15 Ghostly Photographs
Reward: 250 XP, Spirit Essence, 3 Tarot Card

Rider on the Storm
Collect the Pony Express Daily Bonus
Clear 30 Debris on Neighbor Homesteads
Harvest 20 Apricot Trees
Reward: 250XP, Spirit Essence, 1 Tarot Card

Ghost
Tend 40 Adult Goats
Collect the Barn Daily Bonus twice
Collect 10 Pottery Clay
Reward: 500 XP, Spirit Essence, 4 Tarot Card

The Ghost of Shining Cloud
Harvest 30 Corn
Tend 30 Adult Oxen
Collect 15 Sweet Alfalfa
Reward: 500 XP, Spirit Essence, 2 Tarot Card

Ghost Bear
Clobber 4 Bears
Sell 20 Adult Sheep
Collect 10 Honey Pots
Reward: 500 XP, Spirit Essence, 4 Tarot Card

A Little Less Haunted Homestead
Reward: Black Cat
Quote:
The Wandering General
Clear 35 Debris on your Homestead
Chop Pine Trees 35 times on your Homestead
Harvest 45 Potatoes
Reward: 750XP, Spirit Essence, 3 Tarot Cards

Double Trouble
Collect the Schoolhouse Daily Bonus twice
Harvest 45 Sunflowers
Collect 15 Doll Clothes
Reward: 750XP, Spirit Essence, 5 Tarot Cards

Shear Terror
Collect the Barber Shop Daily Bonus twice
Tend 55 Adult Sheep
Harvest 50 Flax
Reward: 750XP, Spirit Essence, 4 Tarot Cards

Shiver Me Timbers
Purchase three Dinners from the Market
Craft or Have eight Granny's Gut Punch in the Saloon
Collect 10 Map Fragments
Reward: 1000XP, Spirit Essence, 6 Tarot Cards

The Merry Prankster
Collect the Jackalope Lodge Daily Bonus Twice
Clobber 6 Snakes
Collect 15 Rotten Apples
Reward: 1000XP, Spirit Essence, 5 Tarot Cards

Chain of Fools
Harvest 60 Neighbor Crops
Collect 11 Spirit Essences
Collect then Ghostly Chain Keys
Reward: 1000XP, 1000 Coins, 15 Tarot Cards
All the missions are repeatable: (you do not get the black cat or horse more than once)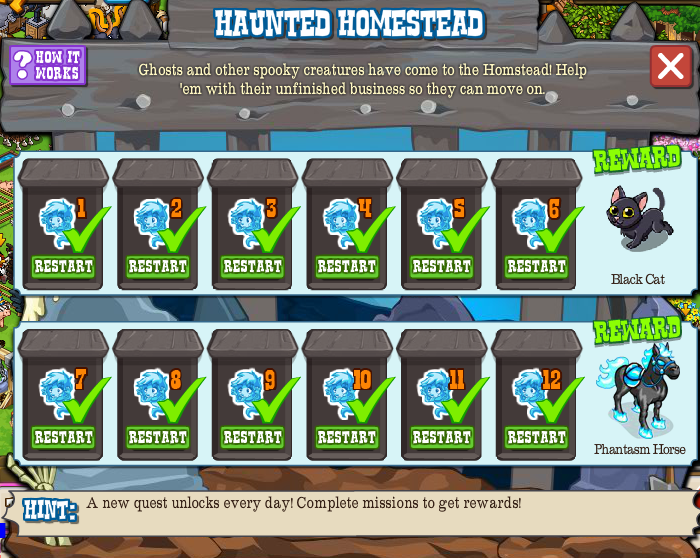 The Frontier Psychic
Collect 20 Tarot Cards
Complete the 4th Haunted Homestead quest, "Ghosts," twice
Reward: 300XP, 5 Tarot Cards, Spooky Cat Tree
The Frontier Diviner
Collect 70 Tarot Cards
Complete the 5th Haunted Homestead quest, "The Ghost of Shining Cloud," twice
Reward: 600XP, 10 Tarot Cards, White Cat
The Frontier Prophet
Collect 125 Tarot Cards
Complete the 8th Haunted Homestead quest, "Double Trouble," three times
Reward: 1000XP, 25 Tarot Cards, Siamese Cat